UK-Based
approved by SEC
for 180+ countries
$10B+
total transaction
volume
$2.2M+
total paid out
to users
Our interest rates
Deposit your crypto and start earning immediately with
1
no lock-in periods,
2
minimum deposits and
3
zero platform fees.
Choose flexible terms for your risk level
Strategies
EarnPark is generating yield for customers through hedged strategies using the liquidity providing instruments in DeFi and CeFi.
1.
Trade algorithms using the market maker strategies on CEX
Market neutral strategies

Qualified MM on 

Binance
2.
Concentrated liquidity provider on DEX
Hedging impermanent loss

Pro LP on 

Uniswap V3
3.
Staking, lending, and borrowing
An ecosystem of products to simplify and boost passive income in crypto
The token is designed to produce yield as well as provide utility and benefits to holders and the community
Our tokenomics is currently a work in progress. Later, the platform's first users might be able to participate in the early bird airdrop.
Swap any of the supported assets seamlessly with no hidden fees
Manage your portfolio and rebalance asset holdings anytime, anywhere. Avoid the hassle of going to multiple platforms.
Share the link with your friends and earn 15% from every payout they get
The EarnPark Affiliate program empowers our community, influencers, content creators, and businesses to monetize traffic by spreading the word about the platform.
Stay safe with EarnPark

protecting your account is our top priority
Protected infrastructure

Protected infrastructure

Two-factor authentication

Security alerts

Customer support
Cold crypto storage

Withdrawal whitelist

Bug bounty program

Vulnerability scans
How to
Start Earning
in 4 steps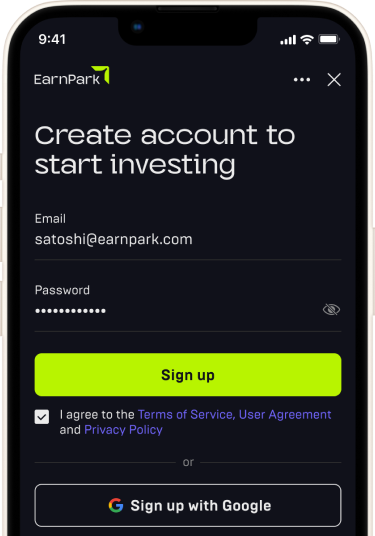 1.
Create your EarnPark account
Use your Gmail to start and get going in less than a minute.
2.
Create your deposit address and add coins
3.
Start earning instantly
Your yield is automatically paid to your EarnPark account, and the next day you'll earn interest on top of it. This way, your daily payouts get bigger over time.
Create Account
Digital assets work for you with EarnPark.
Enjoy the profit higher than any bank would offer
Frequently Asked Questions
Earnpark is a crypto investment platform that provides financial services for investors looking to earn interest using cryptocurrencies. We are a liquidity provider that maximizes profitability by developing, automating, and algorithmizing its own strategies in the CeFi and DeFi markets.
Earnpark is based in London, United Kingdom, and for a good reason. London is a European start-up and digitization paradise. It is the capital of global finance, doing everything to secure the title in the fintech industry and crypto space.
To obtain a status of a fully regulated institution, the UK company is also registered with the US Securities and Exchange Commission (SEC).
Who are the team members at EarnPark?
The founders have diversified experience in launching startups, building products, and creating investment instruments. Having entered the cryptocurrency market in 2017, team became the market makers of the world's largest cryptocurrency exchange Binance, ranking among the TOP 100 market makers.
Earnpark follows all the industry best practices for IT security checks, data protection, access rights, and data encryption. We're constantly raising the bar for our security standards so that users can sleep well.
How is EarnPark different from competitors?
We do things differently than other companies in the crypto industry.
Our goal is to make a gradual transition from CeFi to DeFi. Build a product with regulation and user protection from CeFi and decentralization from DeFi. Allow users to choose strategies with variable risk-reward levels with maximum transparency and security
We create strategies with various risk profiles that provide one of the best returns on the market. We do this by diversifying instruments, software, and algorithmic trading methodologies.
Profitability always correlates with risk! We do not claim to be risk-free, but in terms of strategy, we try to mitigate the risk to the maximum.
Are the interest rates guaranteed?
No, APY is not guaranteed. We are committed to your stable profits. We will let you know if there are any changes in the expected APY.
And we will continue iterating (increasing and decreasing) rates based on the market.
How often is the interest credited to my account?
The interest is credited to your account every day.