BTC 17.8% APY
Are you looking to maximize the earning potential of your Bitcoin (BTC) investments? Look no further than EarnPark, a reliable and SEC-approved UK-based crypto investment platform available in over 180 countries.
In this comprehensive guide, we will explore how to earn a 17.8% APY on Bitcoin (BTC) with EarnPark.
Deposit
Bitcoin (BTC): Staking, Liquidity Providing, or Market Making - Which strategy to choose?
EarnPark offers a unique market-making strategy for BTC, enabling you to outperform BTC (BTC) Staking returns. This strategy operates simply and reliably.

The BTC market-making strategy utilizes algorithmic trading tools on Binance. EarnPark's software robot provides liquidity in spot and futures markets, earning a 17.8% APY on BTC (BTC) by matching bids from buyers and sellers.

By using EarnPark's BTC (BTC) Market Making strategy with 17.8% APY, you contribute to the stability of the BTC trading market while generating passive income.
0
How to Earn Passive Income on Bitcoin (BTC) with EarnPark?
EarnPark generates yield for customers through a combination of hedged strategies, including concentrated liquidity providing in DeFi, market making, lending strategies, and investments in yield-bearing assets.
1.
To start investing Bitcoin (BTC) with EarnPark, users simply need to create an account on the platform and deposit their BTC coins. The platform offers daily payouts with compounding interest, bank-level security and 17.8% APY on BTC.
2.
EarnPark generates yield for customers through hedged strategies using liquidity providing instruments in both decentralized finance (DeFi) and centralized finance (CeFi). The platform also utilizes market maker strategies on centralized exchanges (CEX) and concentrated liquidity providing on decentralized exchanges (DEX) while hedging impermanent loss.
How to Start

Earning

in 4 steps
How to

Start Earning


in 4 steps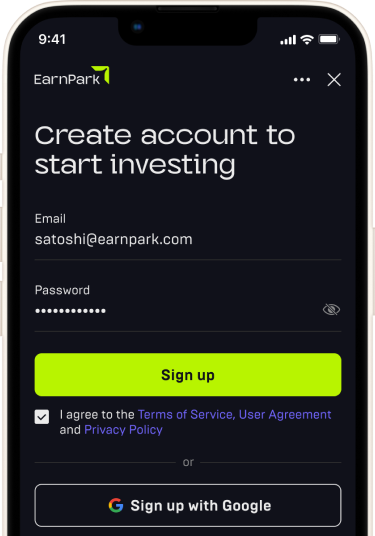 1.
Create your EarnPark account
Use your Gmail to start and get going in less than a minute.
1.
Create your EarnPark account
Use your Gmail to start and get going in less than a minute.
1.
Create your EarnPark account
Use your Gmail to start and get going in less than a minute.
2.
Create your deposit address and add coins
3.
Start earning instantly
Your yield is automatically paid to your EarnPark account, and the next day you'll earn interest on top of it. This way, your daily payouts get bigger over time.
Create Account
Why choose EarnPark for Bitcoin (BTC) earnings?
EarnPark is a UK-based crypto investment platform approved by the SEC for use in over 180 countries. With a daily 17.8% APY on Bitcoin (BTC) investments and top-tier security, EarnPark is a reliable and user-friendly platform for earning passive income through crypto investments.
With the Bitcoin (BTC) EarnPark Strategy offering a 17.8% APY, users can diversify their investment portfolio and generate passive income through a market-making strategy. EarnPark's platform is simple and secure, catering to both novice and experienced investors seeking to earn passive income through Bitcoin (BTC) investments, outperforming staking profits and other crypto investment strategies.
Earn up to
on your BTC tokens by registering an EarnPark interest account today
Start Earning
UK-Based
approved by SEC
for 180+ countries
$10B+
total transaction
volume
$2.2M+
total paid out
to users
Frequently Asked Questions
Earnpark is a crypto investment platform that provides financial services for investors looking to earn interest using cryptocurrencies. We are a liquidity provider that maximizes profitability by developing, automating, and algorithmizing its own strategies in the CeFi and DeFi markets.
Will the company have its token?
The token is designed to produce yield as well as provide utility and benefits to holders and the community
Our tokenomics is currently a work in progress. Later, the platform's first users might be able to participate in the early bird airdrop.
Who are the team members at EarnPark?
The founders have diversified experience in launching startups, building products, and creating investment instruments. Having entered the cryptocurrency market in 2017, team became the market makers of the world's largest cryptocurrency exchange Binance, ranking among the TOP 100 market makers.
Earnpark follows all the industry best practices for IT security checks, data protection, access rights, and data encryption. We're constantly raising the bar for our security standards so that users can sleep well.
How is EarnPark different from competitors?
We do things differently than other companies in the crypto industry.
Our goal is to make a gradual transition from CeFi to DeFi. Build a product with regulation and user protection from CeFi and decentralization from DeFi. Allow users to choose strategies with variable risk-reward levels with maximum transparency and security
We create strategies with various risk profiles that provide one of the best returns on the market. We do this by diversifying instruments, software, and algorithmic trading methodologies.
Profitability always correlates with risk! We do not claim to be risk-free, but in terms of strategy, we try to mitigate the risk to the maximum.
Are the interest rates guaranteed?
No, APY is not guaranteed. We are committed to your stable profits. We will let you know if there are any changes in the expected APY.
And we will continue iterating (increasing and decreasing) rates based on the market.
How often is the interest credited to my account?
The interest is credited to your account every day.